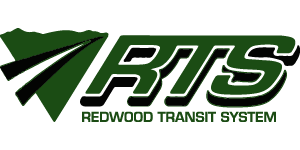 Redwood Transit System (RTS) offers service between Scotia, Fortuna, Loleta, Fields Landing, Eureka, Arcata, McKinleyville, Westhaven, and Trinidad Monday through 6 days per week. RTS provides more than 600,000 passenger-trips per year.
Redwood Transit System
NOTICE FACE COVERINGS ARE STILL REQUIRED Until further notice, the Federal Transit Administration (FTA) is extending requiring the use of face coverings across all U.S. transportation networks, to address the spread of COVID-19 for all public transportation drivers, passengers, and transit facilities. AVISO TODAVIA SE REQUIEREN LOS CUBREBOCAS Hasta nuevo aviso, la Administración Federal de […]
Redwood Transit serves the communities of Scotia, Rio Dell, Fortuna, Fields Landing, King Salmon, Eureka, Arcata, Mckinleyville, Westhaven, and Trinidad.
Redwood Transit System Fares
In-Town Cash Fare
Card Fares
Cash Fare
Day Pass
Week Pass
31 Day
Adult

(18-62)

$2.10
$2.10
$3.50
$5.25
$15.75
$62.00
Youth

(3-17)

$2.10
$1.80
$3.15
$5.25
$13.75
$57.00
Senior

(62+)

$2.10
$1.80
$3.15
$5.25
$13.75
$57.00
Disabled

(with valid ID)

$2.10
$1.80
$3.15
$5.25
$13.75
$57.00
Redwood Transit System
Download this Schedule (PDF)
Redwood Transit System | Sat
Stop
2
4
6
8
10
12
14
16
18
20

Trinidad Park & Ride

1282

, Trinidad, CA

8:30am

—

11:18am

—

2:02pm

—

—

4:29pm

—

7:28pm

6th Ave & Spring Ln, Westhaven Post Office

4001

8:34am

—

11:22am

—

2:06pm

—

—

4:33pm

—

7:32pm

Scenic Dr. & Moonstone Beach Rd

1898

8:37am

—

11:25am

—

2:09pm

—

—

4:36pm

—

7:35pm

Clam Beach Inn

4000

8:41am

—

11:29am

—

2:13pm

—

—

4:40pm

—

7:39pm

Central Ave & Grange Road

3999

8:43am

—

11:32am

—

2:16pm

—

—

4:43pm

—

7:42pm

Arcata/Eureka Airport

1270

3651 Boeing Ave, McKinleyville, CA 95519

8:46am

—

11:35am

—

2:19pm

—

—

4:46pm

—

7:45pm

Central & Murray, McKinleyville

3998

8:50am

—

11:39am

—

2:23pm

—

—

4:50pm

—

7:49pm

McKinleyville High School

3997

8:53am

—

11:41am

—

2:25pm

—

—

4:52pm

—

7:51pm

Railroad Ave & Central -McKinleyville

3995

8:57am

—

11:45am

—

2:29pm

—

—

4:54pm

—

7:55pm

McKinleyville Shopping Center

3994

8:58am

—

11:46am

—

2:30pm

—

—

4:57pm

—

7:56pm

School Road, McKinleyville

3993

8:59am

—

11:48am

—

2:32pm

—

—

4:59pm

—

7:58pm

Bella Vista Avenue

3992

9:01am

—

11:49am

—

2:33pm

—

—

5:00pm

—

7:59pm

Valley West Blvd (McDonald's)

1264

9:06am

10:17am

11:54am

1:07pm

2:38pm

3:20pm

4:15pm

5:05pm

6:18pm

8:04pm

Valley East Blvd

1263

9:08am

10:19am

11:56am

1:09pm

2:40pm

3:22pm

4:17pm

5:07pm

6:20pm

8:06pm

HSU Library Circle

1262

9:14am

10:25am

12:02pm

1:15pm

2:46pm

3:28pm

4:23pm

5:13pm

6:26pm

8:12pm

14th & B Streets, Arcata

3991

9:17am

10:27am

12:04pm

1:17pm

2:48pm

3:30pm

4:25pm

5:15pm

6:28pm

8:14pm

Arcata Transit Center

1260

925 E Street, Arcata, CA 95521

9:20am

10:30am

12:08pm

1:20pm

2:52pm

3:33pm

4:28pm

5:19pm

6:31pm

8:18pm

H & 6th, Arcata

1287

9:24am

10:33am

12:11pm

1:23pm

2:55pm

3:36pm

4:31pm

5:22pm

6:34pm

8:21pm

Manila Community Center

2673

9:33am

—

—

—

—

—

—

5:31pm

—

—

4th & X Streets, Eureka

—

10:43am

12:21pm

1:33pm

3:05pm

3:46pm

4:41pm

—

6:44pm

8:31pm

4th & U Street, Eureka

1258

—

10:43am

12:21pm

1:33pm

3:05pm

3:46pm

4:41pm

—

6:44pm

8:31pm

4th & O Street, Eureka

1257

9:41am

10:45am

12:22pm

1:35pm

3:06pm

3:48pm

4:43pm

5:39pm

6:46pm

8:32pm

4th & K Street, Eureka

1256

9:42am

10:47am

12:25pm

1:37pm

3:09pm

3:50pm

4:45pm

5:42pm

6:48pm

8:35pm

4th & H Streets

1255

9:44am

10:48am

12:27pm

1:38pm

3:11pm

3:51pm

4:46pm

5:44pm

6:49pm

8:37pm

4th & B - Co-Op

1254

9:45am

10:49am

12:28pm

1:39pm

3:12pm

3:52pm

4:47pm

5:45pm

6:50pm

8:38pm

Broadway & Del Norte

3987

9:50am

10:54am

12:33pm

1:44pm

3:17pm

3:57pm

4:52pm

5:50pm

6:55pm

8:43pm

Bayshore Mall

1252

9:57am

10:59am

12:38pm

1:49pm

3:22pm

4:02pm

4:57pm

5:57pm

7:00pm

8:48pm

Broadway St & McCullens Ave

3968

9:59am

11:01am

12:40pm

—

3:24pm

—

—

5:59pm

7:02pm

8:50pm

Spruce Point / Humboldt Hill

3986

10:03am

—

—

—

—

—

—

6:03pm

—

—

King Salmon Avenue

1899

10:05am

—

—

—

—

—

—

6:05pm

—

—

Fields Landing Dr & Central Ave

1895

10:07am

—

12:45pm

—

3:29pm

—

—

6:07pm

—

8:55pm

College of the Redwoods

1250

7351 Tompkins Hill Rd, Eureka, CA 95501

—

11:09am

—

—

—

—

—

—

7:10pm

—

Scenic & Loleta Drive

3969

10:19am

—

—

—

—

—

—

6:19pm

—

—

Fernbridge Dr @ Rt 211

1248

10:24am

—

—

—

—

—

—

6:24pm

—

—

Palmer Creek Rd @ Palmer Blvd, Fortuna

1247

10:27am

—

—

—

—

—

—

6:27pm

—

—

Fortuna/11th & N Streets

1246

10:31am

—

1:03pm

—

3:47pm

—

—

6:31pm

—

9:13pm

Fortuna Blvd. & Smith Lane

1245

10:34am

—

1:06pm

—

3:50pm

—

—

6:34pm

—

9:16pm

Redwood Village Shops

1894

For SB Trips

10:36am

—

1:08pm

—

3:52pm

—

—

6:36pm

—

—

Redwood Memorial

1244

10:37am

—

1:09pm

—

3:53pm

—

—

6:37pm

—

—

Rohnerville Rd. & School St.

1243

Rohnerville Rd. & School St., Fortuna, CA 95540

10:41am

—

—

—

—

—

—

6:41pm

—

—

Campton Heights Market, Fortuna

1242

2915 School St, Fortuna, CA 95540

10:42am

—

—

—

—

—

—

6:42pm

—

—

O'Reilly Auto Supply

1241

—

—

—

—

—

—

—

—

—

9:17pm

Fortuna Park and Ride

3981

10:46am

—

1:13pm

—

3:57pm

—

—

6:46pm

—

9:20pm

Rigby Ave & Center Street, Rio Dell

3975

Rigby Ave & Center Street, Rio Dell, CA 95562

10:57am

—

1:24pm

—

4:08pm

—

—

6:57pm

—

—

Rigby Ave & Davis Street

1239

10:59am

—

1:26pm

—

4:10pm

—

—

6:59pm

—

—

Wildwood & Davis (Rio Dell City Hall)

2674

11:00am

—

1:27pm

—

4:11pm

—

—

7:00pm

—

—

Hoby's Market, Scotia

1238

105 Main St, Scotia, CA 95565

11:04am

—

1:31pm

—

4:15pm

—

—

7:03pm

—

—
Redwood Transit System | Mon-Fri
Stop
4
8
10
12
14
16
18
20
22
24
26
28
30
32
34
36
38
40
42
44
46
48
50
52
54

Trinidad Park & Ride

1282

, Trinidad, CA

—

6:46am

—

—

—

—

—

9:46am

—

—

—

—

—

12:46pm

—

—

—

—

—

3:40pm

—

—

—

—

6:40pm

6th Ave & Spring Ln, Westhaven Post Office

4001

—

6:50am

—

—

—

—

—

9:50am

—

—

—

—

—

12:50pm

—

—

—

—

—

3:44pm

—

—

—

—

6:44pm

Scenic Dr. & Moonstone Beach Rd

1898

—

6:53am

—

—

—

—

—

9:53am

—

—

—

—

—

12:53pm

—

—

—

—

—

3:47pm

—

—

—

—

6:47pm

Clam Beach Inn

4000

—

6:57am

—

—

—

—

—

9:57am

—

—

—

—

—

12:57pm

—

—

—

—

—

3:51pm

—

—

—

—

6:51pm

Central Ave & Grange Road

3999

—

6:59am

—

—

—

—

—

9:59am

—

—

—

—

—

12:59pm

—

—

—

—

—

3:53pm

—

—

—

—

6:53pm

Arcata/Eureka Airport

1270

3651 Boeing Ave, McKinleyville, CA 95519

—

7:02am

—

7:57am

—

9:02am

—

10:02am

—

11:02am

—

11:57am

—

1:02pm

—

2:02pm

—

3:02pm

—

3:56pm

—

—

5:02pm

5:58pm

6:53pm

Central & Murray, McKinleyville

3998

—

7:06am

—

8:01am

—

9:06am

—

10:06am

—

11:06am

—

12:01pm

—

1:06pm

—

2:06pm

—

3:06pm

—

4:00pm

—

—

5:06pm

6:02pm

7:00pm

McKinleyville High School

3997

—

7:09am

—

8:04am

—

9:09am

—

10:09am

—

11:09am

—

12:04pm

—

1:09pm

—

2:09pm

—

3:09pm

—

4:03pm

—

—

5:09pm

6:05pm

7:03pm

Railroad Ave & Central -McKinleyville

3995

—

7:13am

—

8:08am

—

9:13am

—

10:13am

—

11:13am

—

12:08pm

—

1:13pm

—

2:13pm

—

3:13pm

—

4:07pm

—

—

5:13pm

6:09pm

7:07pm

McKinleyville Shopping Center

3994

—

7:14am

—

8:09am

—

9:14am

—

10:14am

—

11:14am

—

12:09pm

—

1:14pm

—

2:14pm

—

3:14pm

—

4:08pm

—

—

5:14pm

6:10pm

7:08pm

School Road, McKinleyville

3993

—

7:15am

—

8:10am

—

9:15am

—

10:15am

—

11:15am

—

12:10pm

—

1:15pm

—

2:15pm

—

3:15pm

—

4:09pm

—

—

5:15pm

6:11pm

7:09pm

Bella Vista Avenue

3992

—

7:17am

—

8:12am

—

9:17am

—

10:17am

—

11:17am

—

12:12pm

—

1:17pm

—

2:17pm

—

3:17pm

—

4:11pm

—

—

5:17pm

6:13pm

7:11pm

Valley West Blvd (McDonald's)

1264

—

7:22am

—

8:17am

—

9:22am

—

10:22am

—

11:22am

—

12:17pm

—

1:22pm

—

2:22pm

—

3:22pm

—

4:16pm

—

—

5:22pm

6:18pm

7:16pm

Valley East Blvd

1263

—

7:24am

—

8:19am

—

9:24am

—

10:24am

—

11:24am

—

12:19pm

—

1:24pm

—

2:24pm

—

3:24pm

—

4:18pm

—

—

5:24pm

6:20pm

7:18pm

HSU Library Circle

1262

6:59am

7:31am

7:56am

8:26am

8:58am

9:31am

10:05am

10:31am

10:57am

11:31am

12:01pm

12:26pm

1:05pm

1:31pm

1:57pm

2:31pm

2:59pm

3:31pm

3:56pm

4:25pm

4:58pm

5:08pm

5:31pm

6:27pm

7:25pm

14th & B Streets, Arcata

3991

7:02am

7:34am

7:59am

8:28am

9:01am

9:33am

10:08am

10:34am

11:00am

11:33am

12:04pm

12:28pm

1:08pm

1:34pm

2:00pm

2:33pm

3:02pm

3:33pm

3:59pm

4:28pm

5:01pm

5:11pm

5:33pm

6:29pm

7:28pm

Arcata Transit Center

1260

925 E Street, Arcata, CA 95521

7:06am

7:39am

8:04am

8:33am

9:05am

9:38am

10:12am

10:39am

11:04am

11:38am

12:08pm

12:33pm

1:12pm

1:39pm

2:04pm

2:38pm

3:06pm

3:38pm

4:03pm

4:33pm

5:05pm

5:16pm

5:38pm

6:34pm

7:33pm

H & 6th, Arcata

1287

7:09am

7:43am

8:08am

8:37am

9:09am

9:42am

10:16am

10:43am

11:08am

11:42am

12:12pm

12:37pm

1:16pm

1:43pm

2:08pm

2:42pm

3:10pm

3:42pm

4:07pm

4:37pm

5:09pm

5:20pm

5:42pm

6:38pm

7:37pm

Manila Community Center

2673

—

—

—

8:46am

—

—

—

—

—

—

—

12:46pm

—

—

—

—

—

—

—

4:46pm

—

—

—

—

7:46pm

4th & X Streets, Eureka

7:19am

7:53am

8:18am

—

9:19am

9:52am

10:26am

10:53am

11:18am

11:52am

12:22pm

—

1:26pm

1:53pm

2:18pm

2:52pm

3:20pm

3:52pm

4:17pm

—

5:19pm

5:30pm

5:52pm

6:48pm

—

4th & U Street, Eureka

1258

7:19am

7:53am

8:18am

—

9:19am

9:52am

10:26am

10:53am

11:18am

11:52am

12:22pm

—

1:26pm

1:53pm

2:18pm

2:52pm

3:20pm

3:52pm

4:17pm

—

5:19pm

5:30pm

5:52pm

6:48pm

—

4th & O Street, Eureka

1257

7:21am

7:54am

8:20am

8:54am

9:21am

9:54am

10:28am

10:54am

11:20am

11:54am

12:24pm

12:54pm

1:28pm

1:54pm

2:20pm

2:54pm

3:22pm

3:54pm

4:19pm

4:54pm

5:21pm

5:31pm

5:54pm

6:50pm

7:54pm

4th & K Street, Eureka

1256

7:22am

7:55am

8:21am

8:55am

9:22am

9:55am

10:29am

10:55am

11:21am

11:55am

12:25pm

12:55pm

1:29pm

1:55pm

2:21pm

2:55pm

3:23pm

3:55pm

4:20pm

4:55pm

5:22pm

5:32pm

5:55pm

6:51pm

7:55pm

4th & H Streets

1255

7:23am

7:57am

8:22am

8:57am

9:23am

9:57am

10:30am

10:57am

11:22am

11:57am

12:26pm

12:57pm

1:30pm

1:57pm

2:22pm

2:57pm

3:24pm

3:57pm

4:21pm

4:57pm

5:23pm

5:34pm

5:57pm

6:53pm

7:57pm

4th & B - Co-Op

1254

7:24am

7:59am

8:23am

8:59am

9:24am

9:59am

10:31am

10:59am

11:23am

11:59am

12:27pm

12:59pm

1:31pm

1:59pm

2:23pm

2:59pm

3:25pm

3:59pm

4:22pm

4:59pm

5:24pm

5:36pm

5:59pm

6:55pm

7:59pm

Broadway & Del Norte

3987

7:29am

8:04am

8:28am

9:04am

9:29am

10:04am

10:36am

11:04am

11:28am

12:04pm

12:32pm

1:04pm

1:36pm

2:04pm

2:28pm

3:04pm

3:30pm

4:04pm

4:27pm

5:04pm

5:29pm

5:41pm

6:04pm

7:00pm

8:03pm

Bayshore Mall

1252

7:35am

8:11am

8:34am

9:11am

9:35am

10:11am

10:42am

11:11am

11:34am

12:11pm

12:38pm

1:11pm

1:42pm

2:11pm

2:34pm

3:11pm

3:36pm

4:11pm

4:33pm

5:11pm

5:35pm

5:48pm

6:11pm

7:07pm

8:07pm

Broadway St & McCullens Ave

3968

7:37am

8:13am

8:36am

9:13am

9:37am

10:13am

10:44am

11:13am

11:36am

12:13pm

12:40pm

1:13pm

1:44pm

2:13pm

2:36pm

3:13pm

3:38pm

4:13pm

4:35pm

5:13pm

5:37pm

5:50pm

6:13pm

7:09pm

8:09pm

Spruce Point / Humboldt Hill

3986

—

8:17am

—

9:17am

—

10:17am

—

11:17am

—

12:17pm

—

1:17pm

—

2:17pm

—

3:17pm

—

4:17pm

—

5:17pm

—

—

6:17pm

7:13pm

8:13pm

King Salmon Avenue

1899

—

8:19am

—

9:19am

—

10:19am

—

11:19am

—

12:19pm

—

1:19pm

—

2:19pm

—

3:19pm

—

4:19pm

—

5:19pm

—

—

6:19pm

7:15pm

8:14pm

Fields Landing Dr & Central Ave

1895

—

8:20am

—

9:20am

—

10:20am

—

11:20am

—

12:20pm

—

1:20pm

—

2:20pm

—

3:20pm

—

4:20pm

—

5:20pm

—

—

6:20pm

7:16pm

8:15pm

College of the Redwoods

1250

7351 Tompkins Hill Rd, Eureka, CA 95501

7:45am

8:27am

8:44am

9:27am

9:45am

10:27am

10:52am

11:27am

11:44am

12:27pm

12:48pm

1:27pm

1:52pm

2:27pm

2:44pm

3:27pm

3:46pm

4:27pm

4:43pm

5:27pm

5:45pm

5:58pm

6:27pm

7:23pm

8:20pm

Scenic & Loleta Drive

3969

—

—

—

9:38am

—

10:38am

—

—

—

—

—

1:38pm

—

—

—

3:38pm

—

—

—

5:38pm

—

—

6:38pm

—

—

Fernbridge Dr @ Rt 211

1248

—

—

—

9:43am

—

10:43am

—

—

—

—

—

1:43pm

—

—

—

3:43pm

—

—

—

5:43pm

—

—

6:43pm

—

—

Palmer Creek Rd @ Palmer Blvd, Fortuna

1247

—

—

—

9:45am

—

10:45am

—

—

—

—

—

1:45pm

—

—

—

3:45pm

—

—

—

5:45pm

—

—

6:45pm

—

—

Fortuna/11th & N Streets

1246

—

8:43am

—

9:50am

—

10:50am

—

11:43am

—

12:43pm

—

1:50pm

—

2:43pm

—

3:50pm

—

4:43pm

—

5:50pm

—

6:14pm

6:50pm

7:39pm

8:36pm

Fortuna Blvd. & Smith Lane

1245

—

8:46am

—

9:53am

—

10:53am

—

11:46am

—

12:46pm

—

1:53pm

—

2:46pm

—

3:53pm

—

4:46pm

—

5:53pm

—

6:18pm

6:53pm

7:42pm

8:39pm

Redwood Village Shops

1894

For SB Trips

—

—

—

9:55am

—

—

—

—

—

—

—

—

—

—

—

3:55pm

—

—

—

—

—

—

6:55pm

—

—

Redwood Memorial

1244

—

—

—

9:56am

—

—

—

—

—

—

—

—

—

—

—

3:56pm

—

—

—

—

—

—

6:56pm

—

—

Rohnerville Rd. & School St.

1243

Rohnerville Rd. & School St., Fortuna, CA 95540

—

—

—

10:00am

—

—

—

—

—

—

—

—

—

—

—

4:00pm

—

—

—

—

—

—

7:00pm

—

—

Campton Heights Market, Fortuna

1242

2915 School St, Fortuna, CA 95540

—

—

—

10:01am

—

—

—

—

—

—

—

—

—

—

—

4:01pm

—

—

—

—

—

—

7:01pm

—

—

O'Reilly Auto Supply

1241

—

8:47am

—

—

—

10:54am

—

11:47am

—

12:47pm

—

1:54pm

—

2:47pm

—

—

—

4:47pm

—

5:54pm

—

6:19pm

—

7:43pm

8:40pm

Fortuna Park and Ride

3981

—

8:48am

—

10:05am

—

10:57am

—

11:48am

—

12:50pm

—

1:57pm

—

2:48pm

—

4:05pm

—

4:50pm

—

5:55pm

—

6:22pm

7:05pm

7:44pm

8:46pm

Kenmar Rd (Fortuna Overlook)

1240

—

—

—

10:05am

—

10:57am

—

—

—

12:50pm

—

1:57pm

—

—

—

4:05pm

—

4:50pm

—

—

—

6:22pm

7:05pm

—

—

Rigby Ave & Center Street, Rio Dell

3975

Rigby Ave & Center Street, Rio Dell, CA 95562

—

8:58am

—

—

—

—

—

11:58am

—

—

—

—

—

2:58pm

—

—

—

—

—

6:05pm

—

—

—

7:54pm

—

Rigby Ave & Davis Street

1239

—

8:59am

—

—

—

—

—

11:59am

—

—

—

—

—

2:59pm

—

—

—

—

—

6:06pm

—

—

—

7:55pm

—

Wildwood & Davis (Rio Dell City Hall)

2674

—

9:00am

—

—

—

—

—

12:00pm

—

—

—

—

—

3:00pm

—

—

—

—

—

6:07pm

—

—

—

7:56pm

—

Hoby's Market, Scotia

1238

105 Main St, Scotia, CA 95565

—

9:04am

—

—

—

—

—

12:04pm

—

—

—

—

—

3:04pm

—

—

—

—

—

6:11pm

—

—

—

8:00pm

—
Redwood Transit System | Sat
Stop
1
3
5
7
9
11
13
15
17
19

Hoby's Market, Scotia

1238

105 Main St, Scotia, CA 95565

8:30am

—

11:34am

—

2:01pm

—

—

4:45pm

—

7:38pm

Wildwood & Davis (Rio Dell City Hall)

1237

675 Wildwood Ave, Rio Dell, CA 95562

8:34am

—

11:38am

—

2:05pm

—

—

4:49pm

—

7:42pm

Rigby Ave & Davis Street

3973

8:36am

—

11:40am

—

2:07pm

—

—

4:51pm

—

7:44pm

Rigby Ave & Center Street, Rio Dell

3974

8:37am

—

11:41am

—

2:08pm

—

—

4:52pm

—

7:45pm

Fortuna Park and Ride

1273

8:48am

—

11:51am

—

2:19pm

—

—

5:03pm

—

7:56pm

School St. & Ronald Ave.

1280

School St. & Ronald Ave., Fortuna, CA 95540

8:50am

—

—

—

—

—

—

5:05pm

—

—

Rohnerville Rd. & School St.

1283

8:51am

—

—

—

—

—

—

5:06pm

—

—

Redwood Memorial

3978

8:55am

—

11:57am

—

2:25pm

—

—

5:10pm

—

8:02pm

Redwood Village Shops

3979

8:56am

—

11:58am

—

2:26pm

—

—

5:11pm

—

8:03pm

Fortuna Blvd. & Smith Lane

3980

8:58am

—

12:00pm

—

2:28pm

—

—

5:13pm

—

8:05pm

Fortuna/11th & N Streets

3983

9:03am

—

12:05pm

—

2:33pm

—

—

5:18pm

—

8:10pm

Palmer Creek Rd @ Palmer Blvd

3984

9:06am

—

—

—

—

—

—

5:21pm

—

—

Fernbridge Drive & Route 211

3985

9:09am

—

—

—

—

—

—

5:24pm

—

—

Scenic Drive & Loleta Drive

1249

Scenic and Loleta Drive, Loleta, CA 95551

9:14am

—

—

—

—

—

—

5:29pm

—

—

College of the Redwoods

1250

7351 Tompkins Hill Rd, Eureka, CA 95501

—

11:29am

—

—

—

—

—

—

7:25pm

—

Fields Landing offramp

1900

9:26am

11:33am

12:17pm

—

2:45pm

—

—

5:41pm

7:29pm

8:22pm

King Salmon Avenue

1896

9:27am

—

—

—

—

—

—

5:42pm

—

—

Spruce Point / Humboldt Hill

1289

9:29am

—

—

—

—

—

—

5:44pm

—

—

Broadway St & McCullens Ave

1251

Broadway St & McCullens Ave, Eureka, CA 95501

9:34am

11:38am

12:22pm

—

2:50pm

—

—

5:49pm

7:34pm

8:27pm

Bayshore Mall

1252

9:38am

11:41am

12:27pm

1:59pm

2:54pm

4:12pm

5:07pm

5:53pm

7:36pm

8:31pm

Broadway & Del Norte

1253

9:43am

11:46am

12:32pm

2:04pm

2:59pm

4:17pm

5:12pm

5:58pm

7:41pm

8:36pm

5th & D

1275

9:48am

11:51am

12:37pm

2:09pm

3:04pm

4:22pm

5:17pm

6:03pm

7:46pm

8:41pm

5th & H

1276

9:49am

11:52am

12:38pm

2:10pm

3:05pm

4:23pm

5:18pm

6:04pm

7:47pm

8:42pm

5th & K Street, Eureka

1277

9:50am

11:53am

12:39pm

2:11pm

3:06pm

4:24pm

5:19pm

6:05pm

7:48pm

8:43pm

5th & O Streets, Eureka

1278

9:52am

11:55am

12:41pm

2:13pm

3:08pm

4:26pm

5:21pm

6:07pm

7:50pm

8:45pm

Manila Community Center

1259

10:00am

—

—

—

—

—

—

6:15pm

—

—

5th & U Streets, Eureka

1279

—

11:57am

12:43pm

2:15pm

3:10pm

4:28pm

5:23pm

—

7:52pm

8:47pm

G & 5th, Arcata

1286

10:09am

12:07pm

12:53pm

2:25pm

3:20pm

4:38pm

5:33pm

6:24pm

8:02pm

8:57pm

Arcata Transit Center

1260

925 E Street, Arcata, CA 95521

10:13am

12:11pm

12:57pm

2:29pm

3:24pm

4:42pm

5:37pm

6:28pm

8:05pm

9:01pm

14th & B St.

1261

10:16am

12:14pm

1:00pm

2:32pm

3:27pm

4:45pm

5:40pm

6:31pm

8:08pm

9:04pm

HSU Library Circle

1262

10:18am

12:16pm

1:02pm

2:34pm

3:29pm

4:47pm

5:42pm

6:33pm

8:10pm

9:06pm

Valley West Blvd (McDonald's)

1264

10:24am

12:22pm

1:08pm

2:40pm

3:35pm

4:53pm

5:48pm

6:39pm

8:16pm

9:12pm

Valley East Blvd

1263

10:26am

—

1:10pm

—

3:37pm

—

—

6:41pm

8:18pm

9:14pm

Bella Vista Avenue

1265

10:30am

—

1:14pm

—

3:41pm

—

—

6:45pm

8:22pm

9:18pm

School Road, McKinleyville

1266

10:32am

—

1:16pm

—

3:43pm

—

—

6:47pm

8:24pm

9:20pm

McKinleyville Shopping Center

1267

10:34am

—

1:18pm

—

3:45pm

—

—

6:49pm

8:26pm

9:22pm

Railroad Drive & Central Ave

1285

10:35am

—

1:19pm

—

3:47pm

—

—

6:51pm

8:29pm

9:24pm

McKinleyville High School

1268

10:39am

—

1:23pm

—

3:50pm

—

—

6:54pm

8:31pm

9:27pm

Central & Murray, McKinleyville

1269

Central Ave & Murray Road, McKinleyville, CA 95519

10:41am

—

1:25pm

—

3:52pm

—

—

6:56pm

—

—

Arcata/Eureka Airport

1270

3651 Boeing Ave, McKinleyville, CA 95519

10:45am

—

1:29pm

—

3:56pm

—

—

7:00pm

—

—

Central Ave & Grange Road

1271

10:48am

—

1:32pm

—

3:59pm

—

—

7:03pm

—

—

Clam Beach Inn

1272

10:49am

—

1:33pm

—

4:00pm

—

—

7:04pm

—

—

Westhaven offramp & Sea Drift Lane (Moonstone Beach)

1897

10:52am

—

1:36pm

—

4:03pm

—

—

7:07pm

—

—

6th Ave & Spring Ln, Westhaven Post Office

1281

10:54am

—

1:38pm

—

4:05pm

—

—

7:09pm

—

—

Trinidad Park & Ride

1282

, Trinidad, CA

10:58am

—

1:42pm

—

4:09pm

—

—

7:13pm

—

—
Redwood Transit System | Mon-Fri
Stop
3
5
7
9
11
13
15
17
19
21
23
25
27
29
31
33
35
37
39
41
43
45
47
49
51
53

Hoby's Market, Scotia

1238

105 Main St, Scotia, CA 95565

—

6:27am

—

7:21am

—

8:27am

—

9:28am

—

—

—

—

—

12:26pm

—

—

—

—

—

—

3:25pm

—

—

—

—

6:28pm

Wildwood & Davis (Rio Dell City Hall)

1237

675 Wildwood Ave, Rio Dell, CA 95562

—

6:31am

—

7:25am

—

8:31am

—

9:32am

—

—

—

—

—

12:30pm

—

—

—

—

—

—

3:29pm

—

—

—

—

6:32pm

Rigby Ave & Davis Street

3973

—

6:33am

—

7:27am

—

8:33am

—

9:34am

—

—

—

—

—

12:32pm

—

—

—

—

—

—

3:31pm

—

—

—

—

6:34pm

Rigby Ave & Center Street, Rio Dell

3974

—

6:34am

—

7:28am

—

8:34am

—

9:35am

—

—

—

—

—

12:33pm

—

—

—

—

—

—

3:32pm

—

—

—

—

6:35pm

Kenmar Rd (Fortuna Overlook)

1240

6:18am

—

—

—

—

—

—

—

—

10:38am

—

11:44am

—

—

—

1:45pm

—

—

2:38pm

—

—

—

4:37pm

—

5:38pm

—

Fortuna Park and Ride

1273

6:19am

6:44am

—

7:38am

—

8:44am

—

9:45am

—

10:39am

—

11:45am

—

12:43pm

—

1:46pm

—

—

2:39pm

—

3:42pm

—

4:38pm

—

5:39pm

6:45pm

School St. & Ronald Ave.

1280

School St. & Ronald Ave., Fortuna, CA 95540

—

6:46am

—

7:40am

—

8:46am

—

—

—

10:42am

—

11:48am

—

—

—

—

—

—

2:42pm

—

—

—

4:41pm

—

5:42pm

—

Rohnerville Rd. & School St.

1283

—

6:47am

—

7:41am

—

8:47am

—

—

—

10:43am

—

11:49am

—

—

—

—

—

—

2:43pm

—

—

—

4:42pm

—

5:43pm

—

Redwood Memorial

3978

6:24am

6:51am

—

7:45am

—

8:51am

—

9:51am

—

10:47am

—

11:53am

—

12:49pm

—

1:51pm

—

—

2:47pm

—

3:48pm

—

4:46pm

—

5:47pm

6:51pm

Redwood Village Shops

3979

6:25am

6:52am

—

7:46am

—

8:52am

—

9:52am

—

10:48am

—

11:54am

—

12:50pm

—

1:52pm

—

—

2:48pm

—

3:49pm

—

4:47pm

—

5:48pm

6:52pm

Fortuna Blvd. & Smith Lane

3980

6:27am

6:54am

—

7:48am

—

8:54am

—

9:54am

—

10:50am

—

11:56am

—

12:52pm

—

1:54pm

—

—

2:50pm

—

3:51pm

—

4:49pm

—

5:50pm

6:54pm

Fortuna/11th & N Streets

3983

6:32am

6:59am

—

7:53am

—

8:59am

—

9:59am

—

10:55am

—

12:01pm

—

12:57pm

—

1:59pm

—

—

2:55pm

—

3:56pm

—

4:54pm

—

5:55pm

6:59pm

Palmer Creek Rd @ Palmer Blvd

3984

—

—

—

7:56am

—

—

—

—

—

10:58am

—

—

—

—

—

—

—

—

2:58pm

—

—

—

4:57pm

—

5:58pm

—

Fernbridge Drive & Route 211

3985

—

—

—

7:59am

—

—

—

—

—

11:01am

—

—

—

—

—

—

—

—

3:01pm

—

—

—

5:00pm

—

6:01pm

—

Scenic Drive & Loleta Drive

1249

Scenic and Loleta Drive, Loleta, CA 95551

—

—

—

8:04am

—

—

—

—

—

11:06am

—

—

—

—

—

—

—

—

3:06pm

—

—

—

5:05pm

—

6:06pm

—

College of the Redwoods

1250

7351 Tompkins Hill Rd, Eureka, CA 95501

6:49am

7:16am

7:56am

8:16am

8:52am

9:16am

9:55am

10:16am

10:59am

11:18am

11:54am

12:18pm

12:55pm

1:16pm

1:58pm

2:18pm

2:54pm

3:05pm

3:18pm

3:54pm

4:16pm

4:53pm

5:17pm

5:52pm

6:18pm

7:16pm

Fields Landing offramp

1900

6:54am

7:21am

—

8:21am

—

9:21am

—

10:21am

—

11:23am

—

12:23pm

—

1:21pm

—

2:23pm

—

3:10pm

3:23pm

—

4:21pm

—

5:22pm

—

6:23pm

7:21pm

King Salmon Avenue

1896

6:55am

7:22am

—

8:22am

—

9:22am

—

10:22am

—

11:24am

—

12:24pm

—

1:22pm

—

2:24pm

—

3:11pm

3:24pm

—

4:22pm

—

5:23pm

—

6:24pm

7:22pm

Spruce Point / Humboldt Hill

1289

6:57am

7:24am

—

8:24am

—

9:24am

—

10:24am

—

11:26am

—

12:26pm

—

1:24pm

—

2:26pm

—

3:13pm

3:26pm

—

4:24pm

—

5:25pm

—

6:26pm

7:24pm

Broadway St & McCullens Ave

1251

Broadway St & McCullens Ave, Eureka, CA 95501

7:02am

7:29am

8:04am

8:29am

9:00am

9:29am

10:03am

10:29am

11:07am

11:31am

12:02pm

12:31pm

1:03pm

1:29pm

2:06pm

2:31pm

3:02pm

3:18pm

3:31pm

4:02pm

4:29pm

5:01pm

5:30pm

6:00pm

6:31pm

7:29pm

Bayshore Mall

1252

7:06am

7:35am

8:08am

8:35am

9:04am

9:35am

10:07am

10:35am

11:11am

11:35am

12:06pm

12:35pm

1:07pm

1:35pm

2:10pm

2:35pm

3:06pm

3:22pm

3:35pm

4:06pm

4:35pm

5:05pm

5:35pm

6:04pm

6:35pm

7:35pm

Broadway & Del Norte

1253

7:10am

7:39am

8:12am

8:39am

9:08am

9:39am

10:11am

10:39am

11:15am

11:39am

12:10pm

12:39pm

1:11pm

1:39pm

2:14pm

2:39pm

3:10pm

3:26pm

3:39pm

4:10pm

4:39pm

5:09pm

5:39pm

6:08pm

6:39pm

7:39pm

5th & D

1275

7:14am

7:44am

8:17am

8:44am

9:13am

9:44am

10:16am

10:44am

11:20am

11:44am

12:15pm

12:44pm

1:16pm

1:44pm

2:19pm

2:44pm

3:15pm

3:30pm

3:43pm

4:15pm

4:44pm

5:14pm

5:43pm

6:13pm

6:43pm

7:44pm

5th & H

1276

7:15am

7:45am

8:18am

8:45am

9:14am

9:45am

10:17am

10:45am

11:21am

11:45am

12:16pm

12:45pm

1:17pm

1:45pm

2:20pm

2:45pm

3:16pm

3:31pm

3:44pm

4:16pm

4:45pm

5:15pm

5:44pm

6:14pm

6:44pm

7:46pm

5th & K Street, Eureka

1277

7:16am

7:46am

8:19am

8:46am

9:15am

9:46am

10:18am

10:46am

11:22am

11:46am

12:17pm

12:46pm

1:18pm

1:46pm

2:21pm

2:46pm

3:17pm

3:32pm

3:45pm

4:17pm

4:46pm

5:16pm

5:45pm

6:15pm

6:45pm

7:47pm

5th & O Streets, Eureka

1278

7:17am

7:47am

8:20am

8:47am

9:16am

9:47am

10:19am

10:47am

11:23am

11:47am

12:18pm

12:47pm

1:19pm

1:47pm

2:22pm

2:47pm

3:18pm

3:33pm

3:46pm

4:18pm

4:47pm

5:17pm

5:46pm

6:16pm

6:46pm

7:48pm

Manila Community Center

1259

—

7:56am

—

—

—

—

—

10:56am

—

—

—

—

—

—

—

—

—

—

—

—

4:56pm

—

5:55pm

—

—

7:57pm

5th & U Streets, Eureka

1279

7:19am

—

8:22am

8:49am

9:18am

9:49am

10:21am

—

11:25am

11:49am

12:20pm

12:49pm

1:21pm

1:49pm

2:24pm

2:49pm

3:20pm

3:35pm

3:48pm

4:20pm

—

5:19pm

—

6:18pm

6:48pm

—

G & 5th, Arcata

1286

7:29am

8:05am

8:32am

9:00am

9:28am

10:00am

10:31am

11:05am

11:35am

12:00pm

12:30pm

1:00pm

1:31pm

2:00pm

2:34pm

3:00pm

3:30pm

3:46pm

3:59pm

4:31pm

5:05pm

5:29pm

6:04pm

6:29pm

6:59pm

8:06pm

Arcata Transit Center

1260

925 E Street, Arcata, CA 95521

7:32am

8:09am

8:35am

9:04am

9:31am

10:04am

10:34am

11:09am

11:38am

12:04pm

12:33pm

1:04pm

1:34pm

2:04pm

2:37pm

3:04pm

3:33pm

3:50pm

4:03pm

4:35pm

5:09pm

5:32pm

6:08pm

6:33pm

7:03pm

8:10pm

14th & B St.

1261

7:34am

8:11am

8:37am

9:06am

9:33am

10:06am

10:36am

11:11am

11:40am

12:06pm

12:35pm

1:06pm

1:36pm

2:06pm

2:39pm

3:06pm

3:35pm

3:52pm

4:05pm

4:37pm

5:11pm

5:34pm

6:10pm

6:35pm

7:05pm

8:12pm

HSU Library Circle

1262

7:36am

8:15am

8:39am

9:10am

9:35am

10:10am

10:38am

11:15am

11:42am

12:10pm

12:37pm

1:10pm

1:38pm

2:10pm

2:41pm

3:10pm

3:37pm

3:56pm

4:09pm

4:39pm

5:15pm

5:36pm

6:14pm

6:39pm

7:07pm

8:14pm

Valley West Blvd (McDonald's)

1264

—

8:21am

—

9:16am

—

10:16am

—

11:21am

—

12:16pm

—

1:16pm

—

2:16pm

—

3:16pm

—

4:02pm

4:15pm

—

5:21pm

—

6:20pm

6:45pm

7:12pm

8:19pm

Valley East Blvd

1263

—

8:24am

—

9:19am

—

10:19am

—

11:24am

—

12:19pm

—

1:19pm

—

2:19pm

—

3:20pm

—

4:05pm

4:18pm

—

5:24pm

—

6:23pm

6:48pm

7:15pm

8:22pm

Bella Vista Avenue

1265

—

8:28am

—

9:23am

—

10:23am

—

11:28am

—

12:23pm

—

1:23pm

—

2:23pm

—

3:24pm

—

4:09pm

4:22pm

—

5:28pm

—

6:27pm

6:52pm

7:19pm

8:26pm

School Road, McKinleyville

1266

—

8:30am

—

9:25am

—

10:25am

—

11:30am

—

12:25pm

—

1:25pm

—

2:25pm

—

3:26pm

—

4:11pm

4:24pm

—

5:30pm

—

6:29pm

6:54pm

7:21pm

8:28pm

McKinleyville Shopping Center

1267

—

8:32am

—

9:27am

—

10:27am

—

11:32am

—

12:27pm

—

1:27pm

—

2:27pm

—

3:28pm

—

4:13pm

4:26pm

—

5:32pm

—

6:31pm

6:56pm

7:23pm

8:30pm

Railroad Drive & Central Ave

1285

—

8:33am

—

9:28am

—

10:28am

—

11:33am

—

12:28pm

—

1:28pm

—

2:28pm

—

3:29pm

—

4:14pm

4:27pm

—

5:33pm

—

6:32pm

6:57pm

7:24pm

8:31pm

McKinleyville High School

1268

—

8:37am

—

9:32am

—

10:32am

—

11:37am

—

12:32pm

—

1:32pm

—

2:32pm

—

3:33pm

—

4:18pm

4:31pm

—

5:37pm

—

6:36pm

7:01pm

7:28pm

8:35pm

Central & Murray, McKinleyville

1269

Central Ave & Murray Road, McKinleyville, CA 95519

—

8:39am

—

9:34am

—

10:34am

—

11:39am

—

12:34pm

—

1:34pm

—

2:34pm

—

3:35pm

—

—

4:33pm

—

5:39pm

—

6:38pm

7:03pm

7:30pm

8:37pm

Arcata/Eureka Airport

1270

3651 Boeing Ave, McKinleyville, CA 95519

—

8:43am

—

9:38am

—

10:38am

—

11:43am

—

12:38pm

—

1:38pm

—

2:38pm

—

3:39pm

—

—

4:37pm

—

5:43pm

—

6:42pm

7:07pm

7:34pm

8:41pm

Central Ave & Grange Road

1271

—

8:46am

—

—

—

—

—

11:46am

—

—

—

—

—

2:41pm

—

—

—

—

—

—

5:46pm

—

—

7:10pm

—

—

Clam Beach Inn

1272

—

8:48am

—

—

—

—

—

11:48am

—

—

—

—

—

2:43pm

—

—

—

—

—

—

5:48pm

—

—

7:12pm

—

—

Westhaven offramp & Sea Drift Lane (Moonstone Beach)

1897

—

8:52am

—

—

—

—

—

11:52am

—

—

—

—

—

2:47pm

—

—

—

—

—

—

5:52pm

—

—

7:16pm

—

—

6th Ave & Spring Ln, Westhaven Post Office

1281

—

8:54am

—

—

—

—

—

11:54am

—

—

—

—

—

2:49pm

—

—

—

—

—

—

5:54pm

—

—

7:18pm

—

—

Trinidad Park & Ride

1282

, Trinidad, CA

—

8:58am

—

—

—

—

—

11:58am

—

—

—

—

—

2:53pm

—

—

—

—

—

—

5:58pm

—

—

7:22pm

—

—