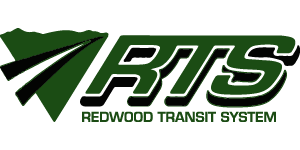 Redwood Transit System (RTS) offers service between Scotia, Fortuna, Loleta, Fields Landing, Eureka, Arcata, McKinleyville, Westhaven, and Trinidad Monday through 6 days per week. RTS provides more than 600,000 passenger-trips per year.
Redwood Transit System
Notice Effective June 21, 2022 thru June 25, 2022, buses will not service Southbound bus stops at Westhaven or Moonstone, between 9:50 am and 6;30 pm Aviso Desde el 21 Junio de 2022 hasta el 25 de Junio de 2022, los camiones no darán servicio a las paradas en dirección sur en Westhaven o Moonstone, […]
Redwood Transit serves the communities of Scotia, Rio Dell, Fortuna, Fields Landing, King Salmon, Eureka, Arcata, Mckinleyville, Westhaven, and Trinidad.
Redwood Transit System Fares
In-Town Cash Fare
Card Fares
Cash Fare
Day Pass
Week Pass
31 Day
Adult

(18-62)

$2.10
$2.10
$3.50
$5.25
$15.75
$62.00
Youth

(3-17)

$2.10
$1.80
$3.15
$5.25
$13.75
$57.00
Senior

(62+)

$2.10
$1.80
$3.15
$5.25
$13.75
$57.00
Disabled

(with valid ID)

$2.10
$1.80
$3.15
$5.25
$13.75
$57.00
Redwood Transit System
Download this Schedule (PDF)
Redwood Transit System | Sat
Stop
2
4
6
8
10
12
14
16
18
20

Trinidad Park & Ride

1282

, Trinidad, CA

8:30am

—

11:18am

—

2:02pm

—

—

4:29pm

—

7:28pm

6th Ave & Spring Ln, Westhaven Post Office

4001

8:34am

—

11:22am

—

2:06pm

—

—

4:33pm

—

7:32pm

Scenic Dr. & Moonstone Beach Rd

1898

8:37am

—

11:25am

—

2:09pm

—

—

4:36pm

—

7:35pm

Clam Beach Inn

4000

8:41am

—

11:29am

—

2:13pm

—

—

4:40pm

—

7:39pm

Central Ave & Grange Road

3999

8:43am

—

11:32am

—

2:16pm

—

—

4:43pm

—

7:42pm

Arcata/Eureka Airport

1270

3651 Boeing Ave, McKinleyville, CA 95519

8:46am

—

11:35am

—

2:19pm

—

—

4:46pm

—

7:45pm

Central & Murray, McKinleyville

3998

8:50am

—

11:39am

—

2:23pm

—

—

4:50pm

—

7:49pm

McKinleyville High School

3997

8:53am

—

11:41am

—

2:25pm

—

—

4:52pm

—

7:51pm

Railroad Ave & Central -McKinleyville

3995

8:57am

—

11:45am

—

2:29pm

—

—

4:54pm

—

7:55pm

McKinleyville Shopping Center

3994

8:58am

—

11:46am

—

2:30pm

—

—

4:57pm

—

7:56pm

School Road, McKinleyville

3993

8:59am

—

11:48am

—

2:32pm

—

—

4:59pm

—

7:58pm

Bella Vista Avenue

3992

9:01am

—

11:49am

—

2:33pm

—

—

5:00pm

—

7:59pm

Valley West Blvd (McDonald's)

1264

9:06am

10:17am

11:54am

1:07pm

2:38pm

3:20pm

4:15pm

5:05pm

6:18pm

8:04pm

Valley East Blvd

1263

9:08am

10:19am

11:56am

1:09pm

2:40pm

3:22pm

4:17pm

5:07pm

6:20pm

8:06pm

HSU Library Circle

1262

9:14am

10:25am

12:02pm

1:15pm

2:46pm

3:28pm

4:23pm

5:13pm

6:26pm

8:12pm

14th & B Streets, Arcata

3991

9:17am

10:27am

12:04pm

1:17pm

2:48pm

3:30pm

4:25pm

5:15pm

6:28pm

8:14pm

Arcata Transit Center

1260

925 E Street, Arcata, CA 95521

9:20am

10:30am

12:08pm

1:20pm

2:52pm

3:33pm

4:28pm

5:19pm

6:31pm

8:18pm

H & 6th, Arcata

1287

9:24am

10:33am

12:11pm

1:23pm

2:55pm

3:36pm

4:31pm

5:22pm

6:34pm

8:21pm

Manila Community Center

2673

9:33am

—

—

—

—

—

—

5:31pm

—

—

4th & X Streets, Eureka

—

10:43am

12:21pm

1:33pm

3:05pm

3:46pm

4:41pm

—

6:44pm

8:31pm

4th & U Street, Eureka

1258

—

10:43am

12:21pm

1:33pm

3:05pm

3:46pm

4:41pm

—

6:44pm

8:31pm

4th & O Street, Eureka

1257

9:41am

10:45am

12:22pm

1:35pm

3:06pm

3:48pm

4:43pm

5:39pm

6:46pm

8:32pm

4th & K Street, Eureka

1256

9:42am

10:47am

12:25pm

1:37pm

3:09pm

3:50pm

4:45pm

5:42pm

6:48pm

8:35pm

4th & H Streets

1255

9:44am

10:48am

12:27pm

1:38pm

3:11pm

3:51pm

4:46pm

5:44pm

6:49pm

8:37pm

4th & B - Co-Op

1254

9:45am

10:49am

12:28pm

1:39pm

3:12pm

3:52pm

4:47pm

5:45pm

6:50pm

8:38pm

Broadway & Hawthorne St

3987

9:50am

10:54am

12:33pm

1:44pm

3:17pm

3:57pm

4:52pm

5:50pm

6:55pm

8:43pm

Bayshore Mall

1252

9:57am

10:59am

12:38pm

1:49pm

3:22pm

4:02pm

4:57pm

5:57pm

7:00pm

8:48pm

Broadway St & McCullens Ave

3968

9:59am

11:01am

12:40pm

—

3:24pm

—

—

5:59pm

7:02pm

8:50pm

Spruce Point / Humboldt Hill

3986

10:03am

—

—

—

—

—

—

6:03pm

—

—

King Salmon Avenue

1899

10:05am

—

—

—

—

—

—

6:05pm

—

—

Fields Landing Dr & Central Ave

1895

10:07am

—

12:45pm

—

3:29pm

—

—

6:07pm

—

8:55pm

College of the Redwoods

1250

7351 Tompkins Hill Rd, Eureka, CA 95501

—

11:09am

—

—

—

—

—

—

7:10pm

—

Scenic & Loleta Drive

3969

10:19am

—

—

—

—

—

—

6:19pm

—

—

Fernbridge Dr @ Rt 211

1248

10:24am

—

—

—

—

—

—

6:24pm

—

—

Palmer Creek Rd @ Palmer Blvd, Fortuna

1247

10:27am

—

—

—

—

—

—

6:27pm

—

—

Fortuna/11th & N Streets

1246

10:31am

—

1:03pm

—

3:47pm

—

—

6:31pm

—

9:13pm

Fortuna Blvd. & Smith Lane

1245

10:34am

—

1:06pm

—

3:50pm

—

—

6:34pm

—

9:16pm

Redwood Village Shops

1894

For SB Trips

10:36am

—

1:08pm

—

3:52pm

—

—

6:36pm

—

—

Redwood Memorial

1244

10:37am

—

1:09pm

—

3:53pm

—

—

6:37pm

—

—

Rohnerville Rd. & School St.

1243

Rohnerville Rd. & School St., Fortuna, CA 95540

10:41am

—

—

—

—

—

—

6:41pm

—

—

Campton Heights Market, Fortuna

1242

2915 School St, Fortuna, CA 95540

10:42am

—

—

—

—

—

—

6:42pm

—

—

O'Reilly Auto Supply

1241

—

—

—

—

—

—

—

—

—

9:17pm

Fortuna Park and Ride

3981

10:46am

—

1:13pm

—

3:57pm

—

—

6:46pm

—

9:20pm

Rigby Ave & Center Street, Rio Dell

3975

Rigby Ave & Center Street, Rio Dell, CA 95562

10:57am

—

1:24pm

—

4:08pm

—

—

6:57pm

—

—

Rigby Ave & Davis Street

1239

10:59am

—

1:26pm

—

4:10pm

—

—

6:59pm

—

—

Wildwood & Davis (Rio Dell City Hall)

2674

11:00am

—

1:27pm

—

4:11pm

—

—

7:00pm

—

—

Hoby's Market, Scotia

1238

105 Main St, Scotia, CA 95565

11:04am

—

1:31pm

—

4:15pm

—

—

7:03pm

—

—
Redwood Transit System | Mon-Fri
Stop
4
8
10
12
14
16
18
20
22
24
26
28
30
32
34
36
38
40
42
44
46
48
50
52
54

Trinidad Park & Ride

1282

, Trinidad, CA

—

6:46am

—

—

—

—

—

9:46am

—

—

—

—

—

12:46pm

—

—

—

—

—

3:40pm

—

—

—

—

6:40pm

6th Ave & Spring Ln, Westhaven Post Office

4001

—

6:50am

—

—

—

—

—

9:50am

—

—

—

—

—

12:50pm

—

—

—

—

—

3:44pm

—

—

—

—

6:44pm

Scenic Dr. & Moonstone Beach Rd

1898

—

6:53am

—

—

—

—

—

9:53am

—

—

—

—

—

12:53pm

—

—

—

—

—

3:47pm

—

—

—

—

6:47pm

Clam Beach Inn

4000

—

6:57am

—

—

—

—

—

9:57am

—

—

—

—

—

12:57pm

—

—

—

—

—

3:51pm

—

—

—

—

6:51pm

Central Ave & Grange Road

3999

—

6:59am

—

—

—

—

—

9:59am

—

—

—

—

—

12:59pm

—

—

—

—

—

3:53pm

—

—

—

—

6:53pm

Arcata/Eureka Airport

1270

3651 Boeing Ave, McKinleyville, CA 95519

—

7:02am

—

7:57am

—

9:02am

—

10:02am

—

11:02am

—

11:57am

—

1:02pm

—

2:02pm

—

3:02pm

—

3:56pm

—

—

5:02pm

5:58pm

6:53pm

Central & Murray, McKinleyville

3998

—

7:06am

—

8:01am

—

9:06am

—

10:06am

—

11:06am

—

12:01pm

—

1:06pm

—

2:06pm

—

3:06pm

—

4:00pm

—

—

5:06pm

6:02pm

7:00pm

McKinleyville High School

3997

—

7:09am

—

8:04am

—

9:09am

—

10:09am

—

11:09am

—

12:04pm

—

1:09pm

—

2:09pm

—

3:09pm

—

4:03pm

—

—

5:09pm

6:05pm

7:03pm

Railroad Ave & Central -McKinleyville

3995

—

7:13am

—

8:08am

—

9:13am

—

10:13am

—

11:13am

—

12:08pm

—

1:13pm

—

2:13pm

—

3:13pm

—

4:07pm

—

—

5:13pm

6:09pm

7:07pm

McKinleyville Shopping Center

3994

—

7:14am

—

8:09am

—

9:14am

—

10:14am

—

11:14am

—

12:09pm

—

1:14pm

—

2:14pm

—

3:14pm

—

4:08pm

—

—

5:14pm

6:10pm

7:08pm

School Road, McKinleyville

3993

—

7:15am

—

8:10am

—

9:15am

—

10:15am

—

11:15am

—

12:10pm

—

1:15pm

—

2:15pm

—

3:15pm

—

4:09pm

—

—

5:15pm

6:11pm

7:09pm

Bella Vista Avenue

3992

—

7:17am

—

8:12am

—

9:17am

—

10:17am

—

11:17am

—

12:12pm

—

1:17pm

—

2:17pm

—

3:17pm

—

4:11pm

—

—

5:17pm

6:13pm

7:11pm

Valley West Blvd (McDonald's)

1264

—

7:22am

—

8:17am

—

9:22am

—

10:22am

—

11:22am

—

12:17pm

—

1:22pm

—

2:22pm

—

3:22pm

—

4:16pm

—

—

5:22pm

6:18pm

7:16pm

Valley East Blvd

1263

—

7:24am

—

8:19am

—

9:24am

—

10:24am

—

11:24am

—

12:19pm

—

1:24pm

—

2:24pm

—

3:24pm

—

4:18pm

—

—

5:24pm

6:20pm

7:18pm

HSU Library Circle

1262

6:59am

7:31am

7:56am

8:26am

8:58am

9:31am

10:05am

10:31am

10:57am

11:31am

12:01pm

12:26pm

1:05pm

1:31pm

1:57pm

2:31pm

2:59pm

3:31pm

3:56pm

4:25pm

4:58pm

5:08pm

5:31pm

6:27pm

7:25pm

14th & B Streets, Arcata

3991

7:02am

7:34am

7:59am

8:28am

9:01am

9:33am

10:08am

10:34am

11:00am

11:33am

12:04pm

12:28pm

1:08pm

1:34pm

2:00pm

2:33pm

3:02pm

3:33pm

3:59pm

4:28pm

5:01pm

5:11pm

5:33pm

6:29pm

7:28pm

Arcata Transit Center

1260

925 E Street, Arcata, CA 95521

7:06am

7:39am

8:04am

8:33am

9:05am

9:38am

10:12am

10:39am

11:04am

11:38am

12:08pm

12:33pm

1:12pm

1:39pm

2:04pm

2:38pm

3:06pm

3:38pm

4:03pm

4:33pm

5:05pm

5:16pm

5:38pm

6:34pm

7:33pm

H & 6th, Arcata

1287

7:09am

7:43am

8:08am

8:37am

9:09am

9:42am

10:16am

10:43am

11:08am

11:42am

12:12pm

12:37pm

1:16pm

1:43pm

2:08pm

2:42pm

3:10pm

3:42pm

4:07pm

4:37pm

5:09pm

5:20pm

5:42pm

6:38pm

7:37pm

Manila Community Center

2673

—

—

—

8:46am

—

—

—

—

—

—

—

12:46pm

—

—

—

—

—

—

—

4:46pm

—

—

—

—

7:46pm

4th & X Streets, Eureka

7:19am

7:53am

8:18am

—

9:19am

9:52am

10:26am

10:53am

11:18am

11:52am

12:22pm

—

1:26pm

1:53pm

2:18pm

2:52pm

3:20pm

3:52pm

4:17pm

—

5:19pm

5:30pm

5:52pm

6:48pm

—

4th & U Street, Eureka

1258

7:19am

7:53am

8:18am

—

9:19am

9:52am

10:26am

10:53am

11:18am

11:52am

12:22pm

—

1:26pm

1:53pm

2:18pm

2:52pm

3:20pm

3:52pm

4:17pm

—

5:19pm

5:30pm

5:52pm

6:48pm

—

4th & O Street, Eureka

1257

7:21am

7:54am

8:20am

8:54am

9:21am

9:54am

10:28am

10:54am

11:20am

11:54am

12:24pm

12:54pm

1:28pm

1:54pm

2:20pm

2:54pm

3:22pm

3:54pm

4:19pm

4:54pm

5:21pm

5:31pm

5:54pm

6:50pm

7:54pm

4th & K Street, Eureka

1256

7:22am

7:55am

8:21am

8:55am

9:22am

9:55am

10:29am

10:55am

11:21am

11:55am

12:25pm

12:55pm

1:29pm

1:55pm

2:21pm

2:55pm

3:23pm

3:55pm

4:20pm

4:55pm

5:22pm

5:32pm

5:55pm

6:51pm

7:55pm

4th & H Streets

1255

7:23am

7:57am

8:22am

8:57am

9:23am

9:57am

10:30am

10:57am

11:22am

11:57am

12:26pm

12:57pm

1:30pm

1:57pm

2:22pm

2:57pm

3:24pm

3:57pm

4:21pm

4:57pm

5:23pm

5:34pm

5:57pm

6:53pm

7:57pm

4th & B - Co-Op

1254

7:24am

7:59am

8:23am

8:59am

9:24am

9:59am

10:31am

10:59am

11:23am

11:59am

12:27pm

12:59pm

1:31pm

1:59pm

2:23pm

2:59pm

3:25pm

3:59pm

4:22pm

4:59pm

5:24pm

5:36pm

5:59pm

6:55pm

7:59pm

Broadway & Hawthorne St

3987

7:29am

8:04am

8:28am

9:04am

9:29am

10:04am

10:36am

11:04am

11:28am

12:04pm

12:32pm

1:04pm

1:36pm

2:04pm

2:28pm

3:04pm

3:30pm

4:04pm

4:27pm

5:04pm

5:29pm

5:41pm

6:04pm

7:00pm

8:03pm

Bayshore Mall

1252

7:35am

8:11am

8:34am

9:11am

9:35am

10:11am

10:42am

11:11am

11:34am

12:11pm

12:38pm

1:11pm

1:42pm

2:11pm

2:34pm

3:11pm

3:36pm

4:11pm

4:33pm

5:11pm

5:35pm

5:48pm

6:11pm

7:07pm

8:07pm

Broadway St & McCullens Ave

3968

7:37am

8:13am

8:36am

9:13am

9:37am

10:13am

10:44am

11:13am

11:36am

12:13pm

12:40pm

1:13pm

1:44pm

2:13pm

2:36pm

3:13pm

3:38pm

4:13pm

4:35pm

5:13pm

5:37pm

5:50pm

6:13pm

7:09pm

8:09pm

Spruce Point / Humboldt Hill

3986

—

8:17am

—

9:17am

—

10:17am

—

11:17am

—

12:17pm

—

1:17pm

—

2:17pm

—

3:17pm

—

4:17pm

—

5:17pm

—

—

6:17pm

7:13pm

8:13pm

King Salmon Avenue

1899

—

8:19am

—

9:19am

—

10:19am

—

11:19am

—

12:19pm

—

1:19pm

—

2:19pm

—

3:19pm

—

4:19pm

—

5:19pm

—

—

6:19pm

7:15pm

8:14pm

Fields Landing Dr & Central Ave

1895

—

8:20am

—

9:20am

—

10:20am

—

11:20am

—

12:20pm

—

1:20pm

—

2:20pm

—

3:20pm

—

4:20pm

—

5:20pm

—

—

6:20pm

7:16pm

8:15pm

College of the Redwoods

1250

7351 Tompkins Hill Rd, Eureka, CA 95501

7:45am

8:27am

8:44am

9:27am

9:45am

10:27am

10:52am

11:27am

11:44am

12:27pm

12:48pm

1:27pm

1:52pm

2:27pm

2:44pm

3:27pm

3:46pm

4:27pm

4:43pm

5:27pm

5:45pm

5:58pm

6:27pm

7:23pm

8:20pm

Scenic & Loleta Drive

3969

—

—

—

9:38am

—

10:38am

—

—

—

—

—

1:38pm

—

—

—

3:38pm

—

—

—

5:38pm

—

—

6:38pm

—

—

Fernbridge Dr @ Rt 211

1248

—

—

—

9:43am

—

10:43am

—

—

—

—

—

1:43pm

—

—

—

3:43pm

—

—

—

5:43pm

—

—

6:43pm

—

—

Palmer Creek Rd @ Palmer Blvd, Fortuna

1247

—

—

—

9:45am

—

10:45am

—

—

—

—

—

1:45pm

—

—

—

3:45pm

—

—

—

5:45pm

—

—

6:45pm

—

—

Fortuna/11th & N Streets

1246

—

8:43am

—

9:50am

—

10:50am

—

11:43am

—

12:43pm

—

1:50pm

—

2:43pm

—

3:50pm

—

4:43pm

—

5:50pm

—

6:14pm

6:50pm

7:39pm

8:36pm

Fortuna Blvd. & Smith Lane

1245

—

8:46am

—

9:53am

—

10:53am

—

11:46am

—

12:46pm

—

1:53pm

—

2:46pm

—

3:53pm

—

4:46pm

—

5:53pm

—

6:18pm

6:53pm

7:42pm

8:39pm

Redwood Village Shops

1894

For SB Trips

—

—

—

9:55am

—

—

—

—

—

—

—

—

—

—

—

3:55pm

—

—

—

—

—

—

6:55pm

—

—

Redwood Memorial

1244

—

—

—

9:56am

—

—

—

—

—

—

—

—

—

—

—

3:56pm

—

—

—

—

—

—

6:56pm

—

—

Rohnerville Rd. & School St.

1243

Rohnerville Rd. & School St., Fortuna, CA 95540

—

—

—

10:00am

—

—

—

—

—

—

—

—

—

—

—

4:00pm

—

—

—

—

—

—

7:00pm

—

—

Campton Heights Market, Fortuna

1242

2915 School St, Fortuna, CA 95540

—

—

—

10:01am

—

—

—

—

—

—

—

—

—

—

—

4:01pm

—

—

—

—

—

—

7:01pm

—

—

O'Reilly Auto Supply

1241

—

8:47am

—

—

—

10:54am

—

11:47am

—

12:47pm

—

1:54pm

—

2:47pm

—

—

—

4:47pm

—

5:54pm

—

6:19pm

—

7:43pm

8:40pm

Fortuna Park and Ride

3981

—

8:48am

—

10:05am

—

10:57am

—

11:48am

—

12:50pm

—

1:57pm

—

2:48pm

—

4:05pm

—

4:50pm

—

5:55pm

—

6:22pm

7:05pm

7:44pm

8:46pm

Kenmar Rd (Fortuna Overlook)

1240

—

—

—

10:05am

—

10:57am

—

—

—

12:50pm

—

1:57pm

—

—

—

4:05pm

—

4:50pm

—

—

—

6:22pm

7:05pm

—

—

Rigby Ave & Center Street, Rio Dell

3975

Rigby Ave & Center Street, Rio Dell, CA 95562

—

8:58am

—

—

—

—

—

11:58am

—

—

—

—

—

2:58pm

—

—

—

—

—

6:05pm

—

—

—

7:54pm

—

Rigby Ave & Davis Street

1239

—

8:59am

—

—

—

—

—

11:59am

—

—

—

—

—

2:59pm

—

—

—

—

—

6:06pm

—

—

—

7:55pm

—

Wildwood & Davis (Rio Dell City Hall)

2674

—

9:00am

—

—

—

—

—

12:00pm

—

—

—

—

—

3:00pm

—

—

—

—

—

6:07pm

—

—

—

7:56pm

—

Hoby's Market, Scotia

1238

105 Main St, Scotia, CA 95565

—

9:04am

—

—

—

—

—

12:04pm

—

—

—

—

—

3:04pm

—

—

—

—

—

6:11pm

—

—

—

8:00pm

—
Redwood Transit System | Sat
Stop
1
3
5
7
9
11
13
15
17
19

Hoby's Market, Scotia

1238

105 Main St, Scotia, CA 95565

8:30am

—

11:34am

—

2:01pm

—

—

4:45pm

—

7:38pm

Wildwood & Davis (Rio Dell City Hall)

1237

675 Wildwood Ave, Rio Dell, CA 95562

8:34am

—

11:38am

—

2:05pm

—

—

4:49pm

—

7:42pm

Rigby Ave & Davis Street

3973

8:36am

—

11:40am

—

2:07pm

—

—

4:51pm

—

7:44pm

Rigby Ave & Center Street, Rio Dell

3974

8:37am

—

11:41am

—

2:08pm

—

—

4:52pm

—

7:45pm

Fortuna Park and Ride

1273

8:48am

—

11:51am

—

2:19pm

—

—

5:03pm

—

7:56pm

School St. & Ronald Ave.

1280

School St. & Ronald Ave., Fortuna, CA 95540

8:50am

—

—

—

—

—

—

5:05pm

—

—

Rohnerville Rd. & School St.

1283

8:51am

—

—

—

—

—

—

5:06pm

—

—

Redwood Memorial

3978

8:55am

—

11:57am

—

2:25pm

—

—

5:10pm

—

8:02pm

Redwood Village Shops

3979

8:56am

—

11:58am

—

2:26pm

—

—

5:11pm

—

8:03pm

Fortuna Blvd. & Smith Lane

3980

8:58am

—

12:00pm

—

2:28pm

—

—

5:13pm

—

8:05pm

Fortuna/11th & N Streets

3983

9:03am

—

12:05pm

—

2:33pm

—

—

5:18pm

—

8:10pm

Palmer Creek Rd @ Palmer Blvd

3984

9:06am

—

—

—

—

—

—

5:21pm

—

—

Fernbridge Drive & Route 211

3985

9:09am

—

—

—

—

—

—

5:24pm

—

—

Scenic Drive & Loleta Drive

1249

Scenic and Loleta Drive, Loleta, CA 95551

9:14am

—

—

—

—

—

—

5:29pm

—

—

College of the Redwoods

1250

7351 Tompkins Hill Rd, Eureka, CA 95501

—

11:29am

—

—

—

—

—

—

7:25pm

—

Fields Landing offramp

1900

9:26am

11:33am

12:17pm

—

2:45pm

—

—

5:41pm

7:29pm

8:22pm

King Salmon Avenue

1896

9:27am

—

—

—

—

—

—

5:42pm

—

—

Spruce Point / Humboldt Hill

1289

9:29am

—

—

—

—

—

—

5:44pm

—

—

Broadway St & McCullens Ave

1251

Broadway St & McCullens Ave, Eureka, CA 95501

9:34am

11:38am

12:22pm

—

2:50pm

—

—

5:49pm

7:34pm

8:27pm

Bayshore Mall

1252

9:38am

11:41am

12:27pm

1:59pm

2:54pm

4:12pm

5:07pm

5:53pm

7:36pm

8:31pm

Broadway & Del Norte

1253

9:43am

11:46am

12:32pm

2:04pm

2:59pm

4:17pm

5:12pm

5:58pm

7:41pm

8:36pm

5th & D

1275

9:48am

11:51am

12:37pm

2:09pm

3:04pm

4:22pm

5:17pm

6:03pm

7:46pm

8:41pm

5th & H

1276

9:49am

11:52am

12:38pm

2:10pm

3:05pm

4:23pm

5:18pm

6:04pm

7:47pm

8:42pm

5th & K Street, Eureka

1277

9:50am

11:53am

12:39pm

2:11pm

3:06pm

4:24pm

5:19pm

6:05pm

7:48pm

8:43pm

5th & O Streets, Eureka

1278

9:52am

11:55am

12:41pm

2:13pm

3:08pm

4:26pm

5:21pm

6:07pm

7:50pm

8:45pm

Manila Community Center

1259

10:00am

—

—

—

—

—

—

6:15pm

—

—

5th & U Streets, Eureka

1279

—

11:57am

12:43pm

2:15pm

3:10pm

4:28pm

5:23pm

—

7:52pm

8:47pm

G & 5th, Arcata

1286

10:09am

12:07pm

12:53pm

2:25pm

3:20pm

4:38pm

5:33pm

6:24pm

8:02pm

8:57pm

Arcata Transit Center

1260

925 E Street, Arcata, CA 95521

10:13am

12:11pm

12:57pm

2:29pm

3:24pm

4:42pm

5:37pm

6:28pm

8:05pm

9:01pm

14th & B St.

1261

10:16am

12:14pm

1:00pm

2:32pm

3:27pm

4:45pm

5:40pm

6:31pm

8:08pm

9:04pm

HSU Library Circle

1262

10:18am

12:16pm

1:02pm

2:34pm

3:29pm

4:47pm

5:42pm

6:33pm

8:10pm

9:06pm

Valley West Blvd (McDonald's)

1264

10:24am

12:22pm

1:08pm

2:40pm

3:35pm

4:53pm

5:48pm

6:39pm

8:16pm

9:12pm

Valley East Blvd

1263

10:26am

—

1:10pm

—

3:37pm

—

—

6:41pm

8:18pm

9:14pm

Bella Vista Avenue

1265

10:30am

—

1:14pm

—

3:41pm

—

—

6:45pm

8:22pm

9:18pm

School Road, McKinleyville

1266

10:32am

—

1:16pm

—

3:43pm

—

—

6:47pm

8:24pm

9:20pm

McKinleyville Shopping Center

1267

10:34am

—

1:18pm

—

3:45pm

—

—

6:49pm

8:26pm

9:22pm

Railroad Drive & Central Ave

1285

10:35am

—

1:19pm

—

3:47pm

—

—

6:51pm

8:29pm

9:24pm

McKinleyville High School

1268

10:39am

—

1:23pm

—

3:50pm

—

—

6:54pm

8:31pm

9:27pm

Central & Murray, McKinleyville

1269

Central Ave & Murray Road, McKinleyville, CA 95519

10:41am

—

1:25pm

—

3:52pm

—

—

6:56pm

—

—

Arcata/Eureka Airport

1270

3651 Boeing Ave, McKinleyville, CA 95519

10:45am

—

1:29pm

—

3:56pm

—

—

7:00pm

—

—

Central Ave & Grange Road

1271

10:48am

—

1:32pm

—

3:59pm

—

—

7:03pm

—

—

Clam Beach Inn

1272

10:49am

—

1:33pm

—

4:00pm

—

—

7:04pm

—

—

Westhaven offramp & Sea Drift Lane (Moonstone Beach)

1897

10:52am

—

1:36pm

—

4:03pm

—

—

7:07pm

—

—

6th Ave & Spring Ln, Westhaven Post Office

1281

10:54am

—

1:38pm

—

4:05pm

—

—

7:09pm

—

—

Trinidad Park & Ride

1282

, Trinidad, CA

10:58am

—

1:42pm

—

4:09pm

—

—

7:13pm

—

—
Redwood Transit System | Mon-Fri
Stop
3
5
7
9
11
13
15
17
19
21
23
25
27
29
31
33
35
37
39
41
43
45
47
49
51
53

Hoby's Market, Scotia

1238

105 Main St, Scotia, CA 95565

—

6:27am

—

7:21am

—

8:27am

—

9:28am

—

—

—

—

—

12:26pm

—

—

—

—

—

—

3:25pm

—

—

—

—

6:28pm

Wildwood & Davis (Rio Dell City Hall)

1237

675 Wildwood Ave, Rio Dell, CA 95562

—

6:31am

—

7:25am

—

8:31am

—

9:32am

—

—

—

—

—

12:30pm

—

—

—

—

—

—

3:29pm

—

—

—

—

6:32pm

Rigby Ave & Davis Street

3973

—

6:33am

—

7:27am

—

8:33am

—

9:34am

—

—

—

—

—

12:32pm

—

—

—

—

—

—

3:31pm

—

—

—

—

6:34pm

Rigby Ave & Center Street, Rio Dell

3974

—

6:34am

—

7:28am

—

8:34am

—

9:35am

—

—

—

—

—

12:33pm

—

—

—

—

—

—

3:32pm

—

—

—

—

6:35pm

Kenmar Rd (Fortuna Overlook)

1240

6:18am

—

—

—

—

—

—

—

—

10:38am

—

11:44am

—

—

—

1:45pm

—

—

2:38pm

—

—

—

4:37pm

—

5:38pm

—

Fortuna Park and Ride

1273

6:19am

6:44am

—

7:38am

—

8:44am

—

9:45am

—

10:39am

—

11:45am

—

12:43pm

—

1:46pm

—

—

2:39pm

—

3:42pm

—

4:38pm

—

5:39pm

6:45pm

School St. & Ronald Ave.

1280

School St. & Ronald Ave., Fortuna, CA 95540

—

6:46am

—

7:40am

—

8:46am

—

—

—

10:42am

—

11:48am

—

—

—

—

—

—

2:42pm

—

—

—

4:41pm

—

5:42pm

—

Rohnerville Rd. & School St.

1283

—

6:47am

—

7:41am

—

8:47am

—

—

—

10:43am

—

11:49am

—

—

—

—

—

—

2:43pm

—

—

—

4:42pm

—

5:43pm

—

Redwood Memorial

3978

6:24am

6:51am

—

7:45am

—

8:51am

—

9:51am

—

10:47am

—

11:53am

—

12:49pm

—

1:51pm

—

—

2:47pm

—

3:48pm

—

4:46pm

—

5:47pm

6:51pm

Redwood Village Shops

3979

6:25am

6:52am

—

7:46am

—

8:52am

—

9:52am

—

10:48am

—

11:54am

—

12:50pm

—

1:52pm

—

—

2:48pm

—

3:49pm

—

4:47pm

—

5:48pm

6:52pm

Fortuna Blvd. & Smith Lane

3980

6:27am

6:54am

—

7:48am

—

8:54am

—

9:54am

—

10:50am

—

11:56am

—

12:52pm

—

1:54pm

—

—

2:50pm

—

3:51pm

—

4:49pm

—

5:50pm

6:54pm

Fortuna/11th & N Streets

3983

6:32am

6:59am

—

7:53am

—

8:59am

—

9:59am

—

10:55am

—

12:01pm

—

12:57pm

—

1:59pm

—

—

2:55pm

—

3:56pm

—

4:54pm

—

5:55pm

6:59pm

Palmer Creek Rd @ Palmer Blvd

3984

—

—

—

7:56am

—

—

—

—

—

10:58am

—

—

—

—

—

—

—

—

2:58pm

—

—

—

4:57pm

—

5:58pm

—

Fernbridge Drive & Route 211

3985

—

—

—

7:59am

—

—

—

—

—

11:01am

—

—

—

—

—

—

—

—

3:01pm

—

—

—

5:00pm

—

6:01pm

—

Scenic Drive & Loleta Drive

1249

Scenic and Loleta Drive, Loleta, CA 95551

—

—

—

8:04am

—

—

—

—

—

11:06am

—

—

—

—

—

—

—

—

3:06pm

—

—

—

5:05pm

—

6:06pm

—

College of the Redwoods

1250

7351 Tompkins Hill Rd, Eureka, CA 95501

6:49am

7:16am

7:56am

8:16am

8:52am

9:16am

9:55am

10:16am

10:59am

11:18am

11:54am

12:18pm

12:55pm

1:16pm

1:58pm

2:18pm

2:54pm

3:05pm

3:18pm

3:54pm

4:16pm

4:53pm

5:17pm

5:52pm

6:18pm

7:16pm

Fields Landing offramp

1900

6:54am

7:21am

—

8:21am

—

9:21am

—

10:21am

—

11:23am

—

12:23pm

—

1:21pm

—

2:23pm

—

3:10pm

3:23pm

—

4:21pm

—

5:22pm

—

6:23pm

7:21pm

King Salmon Avenue

1896

6:55am

7:22am

—

8:22am

—

9:22am

—

10:22am

—

11:24am

—

12:24pm

—

1:22pm

—

2:24pm

—

3:11pm

3:24pm

—

4:22pm

—

5:23pm

—

6:24pm

7:22pm

Spruce Point / Humboldt Hill

1289

6:57am

7:24am

—

8:24am

—

9:24am

—

10:24am

—

11:26am

—

12:26pm

—

1:24pm

—

2:26pm

—

3:13pm

3:26pm

—

4:24pm

—

5:25pm

—

6:26pm

7:24pm

Broadway St & McCullens Ave

1251

Broadway St & McCullens Ave, Eureka, CA 95501

7:02am

7:29am

8:04am

8:29am

9:00am

9:29am

10:03am

10:29am

11:07am

11:31am

12:02pm

12:31pm

1:03pm

1:29pm

2:06pm

2:31pm

3:02pm

3:18pm

3:31pm

4:02pm

4:29pm

5:01pm

5:30pm

6:00pm

6:31pm

7:29pm

Bayshore Mall

1252

7:06am

7:35am

8:08am

8:35am

9:04am

9:35am

10:07am

10:35am

11:11am

11:35am

12:06pm

12:35pm

1:07pm

1:35pm

2:10pm

2:35pm

3:06pm

3:22pm

3:35pm

4:06pm

4:35pm

5:05pm

5:35pm

6:04pm

6:35pm

7:35pm

Broadway & Del Norte

1253

7:10am

7:39am

8:12am

8:39am

9:08am

9:39am

10:11am

10:39am

11:15am

11:39am

12:10pm

12:39pm

1:11pm

1:39pm

2:14pm

2:39pm

3:10pm

3:26pm

3:39pm

4:10pm

4:39pm

5:09pm

5:39pm

6:08pm

6:39pm

7:39pm

5th & D

1275

7:14am

7:44am

8:17am

8:44am

9:13am

9:44am

10:16am

10:44am

11:20am

11:44am

12:15pm

12:44pm

1:16pm

1:44pm

2:19pm

2:44pm

3:15pm

3:30pm

3:43pm

4:15pm

4:44pm

5:14pm

5:43pm

6:13pm

6:43pm

7:44pm

5th & H

1276

7:15am

7:45am

8:18am

8:45am

9:14am

9:45am

10:17am

10:45am

11:21am

11:45am

12:16pm

12:45pm

1:17pm

1:45pm

2:20pm

2:45pm

3:16pm

3:31pm

3:44pm

4:16pm

4:45pm

5:15pm

5:44pm

6:14pm

6:44pm

7:46pm

5th & K Street, Eureka

1277

7:16am

7:46am

8:19am

8:46am

9:15am

9:46am

10:18am

10:46am

11:22am

11:46am

12:17pm

12:46pm

1:18pm

1:46pm

2:21pm

2:46pm

3:17pm

3:32pm

3:45pm

4:17pm

4:46pm

5:16pm

5:45pm

6:15pm

6:45pm

7:47pm

5th & O Streets, Eureka

1278

7:17am

7:47am

8:20am

8:47am

9:16am

9:47am

10:19am

10:47am

11:23am

11:47am

12:18pm

12:47pm

1:19pm

1:47pm

2:22pm

2:47pm

3:18pm

3:33pm

3:46pm

4:18pm

4:47pm

5:17pm

5:46pm

6:16pm

6:46pm

7:48pm

Manila Community Center

1259

—

7:56am

—

—

—

—

—

10:56am

—

—

—

—

—

—

—

—

—

—

—

—

4:56pm

—

5:55pm

—

—

7:57pm

5th & U Streets, Eureka

1279

7:19am

—

8:22am

8:49am

9:18am

9:49am

10:21am

—

11:25am

11:49am

12:20pm

12:49pm

1:21pm

1:49pm

2:24pm

2:49pm

3:20pm

3:35pm

3:48pm

4:20pm

—

5:19pm

—

6:18pm

6:48pm

—

G & 5th, Arcata

1286

7:29am

8:05am

8:32am

9:00am

9:28am

10:00am

10:31am

11:05am

11:35am

12:00pm

12:30pm

1:00pm

1:31pm

2:00pm

2:34pm

3:00pm

3:30pm

3:46pm

3:59pm

4:31pm

5:05pm

5:29pm

6:04pm

6:29pm

6:59pm

8:06pm

Arcata Transit Center

1260

925 E Street, Arcata, CA 95521

7:32am

8:09am

8:35am

9:04am

9:31am

10:04am

10:34am

11:09am

11:38am

12:04pm

12:33pm

1:04pm

1:34pm

2:04pm

2:37pm

3:04pm

3:33pm

3:50pm

4:03pm

4:35pm

5:09pm

5:32pm

6:08pm

6:33pm

7:03pm

8:10pm

14th & B St.

1261

7:34am

8:11am

8:37am

9:06am

9:33am

10:06am

10:36am

11:11am

11:40am

12:06pm

12:35pm

1:06pm

1:36pm

2:06pm

2:39pm

3:06pm

3:35pm

3:52pm

4:05pm

4:37pm

5:11pm

5:34pm

6:10pm

6:35pm

7:05pm

8:12pm

HSU Library Circle

1262

7:36am

8:15am

8:39am

9:10am

9:35am

10:10am

10:38am

11:15am

11:42am

12:10pm

12:37pm

1:10pm

1:38pm

2:10pm

2:41pm

3:10pm

3:37pm

3:56pm

4:09pm

4:39pm

5:15pm

5:36pm

6:14pm

6:39pm

7:07pm

8:14pm

Valley West Blvd (McDonald's)

1264

—

8:21am

—

9:16am

—

10:16am

—

11:21am

—

12:16pm

—

1:16pm

—

2:16pm

—

3:16pm

—

4:02pm

4:15pm

—

5:21pm

—

6:20pm

6:45pm

7:12pm

8:19pm

Valley East Blvd

1263

—

8:24am

—

9:19am

—

10:19am

—

11:24am

—

12:19pm

—

1:19pm

—

2:19pm

—

3:20pm

—

4:05pm

4:18pm

—

5:24pm

—

6:23pm

6:48pm

7:15pm

8:22pm

Bella Vista Avenue

1265

—

8:28am

—

9:23am

—

10:23am

—

11:28am

—

12:23pm

—

1:23pm

—

2:23pm

—

3:24pm

—

4:09pm

4:22pm

—

5:28pm

—

6:27pm

6:52pm

7:19pm

8:26pm

School Road, McKinleyville

1266

—

8:30am

—

9:25am

—

10:25am

—

11:30am

—

12:25pm

—

1:25pm

—

2:25pm

—

3:26pm

—

4:11pm

4:24pm

—

5:30pm

—

6:29pm

6:54pm

7:21pm

8:28pm

McKinleyville Shopping Center

1267

—

8:32am

—

9:27am

—

10:27am

—

11:32am

—

12:27pm

—

1:27pm

—

2:27pm

—

3:28pm

—

4:13pm

4:26pm

—

5:32pm

—

6:31pm

6:56pm

7:23pm

8:30pm

Railroad Drive & Central Ave

1285

—

8:33am

—

9:28am

—

10:28am

—

11:33am

—

12:28pm

—

1:28pm

—

2:28pm

—

3:29pm

—

4:14pm

4:27pm

—

5:33pm

—

6:32pm

6:57pm

7:24pm

8:31pm

McKinleyville High School

1268

—

8:37am

—

9:32am

—

10:32am

—

11:37am

—

12:32pm

—

1:32pm

—

2:32pm

—

3:33pm

—

4:18pm

4:31pm

—

5:37pm

—

6:36pm

7:01pm

7:28pm

8:35pm

Central & Murray, McKinleyville

1269

Central Ave & Murray Road, McKinleyville, CA 95519

—

8:39am

—

9:34am

—

10:34am

—

11:39am

—

12:34pm

—

1:34pm

—

2:34pm

—

3:35pm

—

—

4:33pm

—

5:39pm

—

6:38pm

7:03pm

7:30pm

8:37pm

Arcata/Eureka Airport

1270

3651 Boeing Ave, McKinleyville, CA 95519

—

8:43am

—

9:38am

—

10:38am

—

11:43am

—

12:38pm

—

1:38pm

—

2:38pm

—

3:39pm

—

—

4:37pm

—

5:43pm

—

6:42pm

7:07pm

7:34pm

8:41pm

Central Ave & Grange Road

1271

—

8:46am

—

—

—

—

—

11:46am

—

—

—

—

—

2:41pm

—

—

—

—

—

—

5:46pm

—

—

7:10pm

—

—

Clam Beach Inn

1272

—

8:48am

—

—

—

—

—

11:48am

—

—

—

—

—

2:43pm

—

—

—

—

—

—

5:48pm

—

—

7:12pm

—

—

Westhaven offramp & Sea Drift Lane (Moonstone Beach)

1897

—

8:52am

—

—

—

—

—

11:52am

—

—

—

—

—

2:47pm

—

—

—

—

—

—

5:52pm

—

—

7:16pm

—

—

6th Ave & Spring Ln, Westhaven Post Office

1281

—

8:54am

—

—

—

—

—

11:54am

—

—

—

—

—

2:49pm

—

—

—

—

—

—

5:54pm

—

—

7:18pm

—

—

Trinidad Park & Ride

1282

, Trinidad, CA

—

8:58am

—

—

—

—

—

11:58am

—

—

—

—

—

2:53pm

—

—

—

—

—

—

5:58pm

—

—

7:22pm

—

—